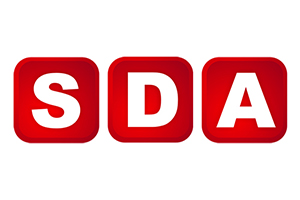 Smarter Data Agent
Smarter Data Agent (SDA) is an integrated Software that combines managing, scheduling, titling and broadcasting of multiple source inputs. SDA combines Social Networking and Social Media to create an easy and effective income generation. Technologies included in SDA are: SMS for TV, RSS for TV, Live Voting, Advertising Management (Ad Manager) and fully capable Character Generator Software.
Our specialty in offering quality product at value prices continues to distinguish us from competition.
SDA Main Feature and  Benefits
Communication with audience through new technologies such as SMS, Email,Twitter, Facebook and RSS in real time and/or live program.
Easy and fully automatic management, filtering, queuing and scheduling of news, messages, banners and advertisements.
Covering all aspects of social networking and social media (TV broadcasters, Radio broadcasters, IP TV…)
Conduction of voting and competitions (i.e. America Idol, Dancing with Stars…) either Live or Online (as Live Voting or Live competitions) using newest communication and broadcasting technologies.
Designed to receive information and news from multiple sources simultaneously and broadcasting them live as TV tickers.
Completely user-defined software designed to broadcast unlimited number of crawls, rolls, animations, images and any other object with astonishing graphics using integrated character generator software which supports NTSC, PAL and various versions of HD programming.
Brilliant Income generation from advertisements as wells as audience.
Automatic and free software updates
Compatible with Windows XP or newer versions of Windows
Utilization of most recent programming technologies for future integration
Even though SDA is a complex and powerful software, end users can start using it in a few minutes after installation.